Paramount, CA…California is accelerating the state's push to achieve net-zero carbon pollution by 2045 with billions of dollars going to support communities, create green jobs, and pave the way for our clean fuel future.  With unprecedented state investments supporting the state's transition away from fossil fuels, Governor Gavin Newsom visited a renewable fuels facility in Paramount today to spotlight California's nation-leading transition to clean fuels and broader commitment to green jobs.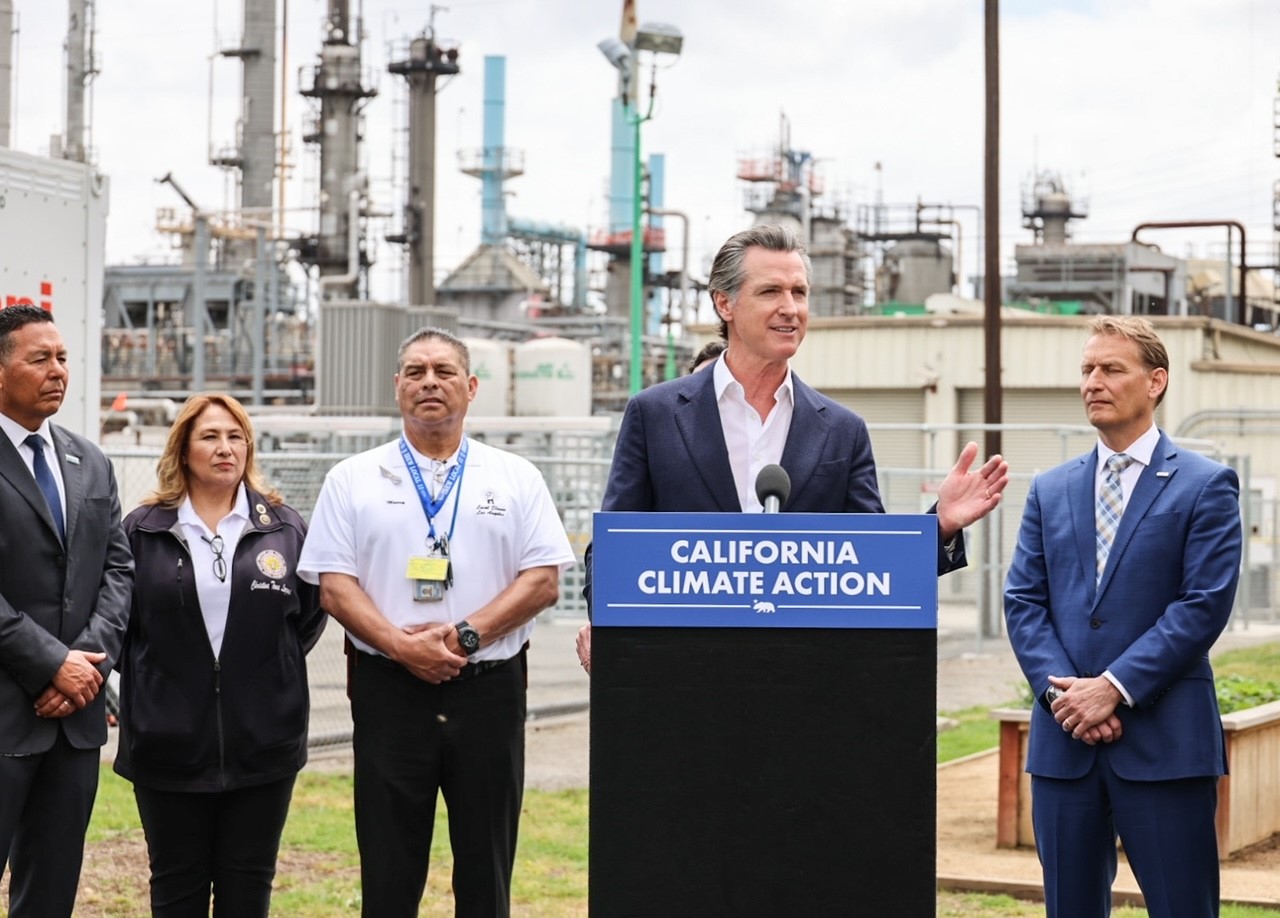 Governor Newsom toured World Energy – a renewable fuels company that converted a petroleum refinery to become the world's first producer of sustainable aviation fuel and is currently building out the facility to produce clean hydrogen – to see California's clean energy transition at work.
World Energy has received millions of dollars in grants from the state to support their clean energy projects, and is one of hundreds of companies that have received state funding. Already, World Energy Paramount has produced 150 million gallons of renewable fuels – the equivalent of taking 250,000 cars off the road – and represents the broader success of California's Low Carbon Fuel Standard (LCFS), which has dramatically reshaped the state's fuels market. Since its inception in 2009, LCFS has doubled California's use of clean fuels.
Additionally, the Governor marked International Workers' Day while at World Energy and met with hundreds of union construction workers who are building the next phase of the facility that will produce clean renewable hydrogen.
What Governor Newsom said: "California's clean energy future is here, and there's no better example of that than this petroleum refinery-turned renewable fuels hub. The fuels of the future are clean and California is leading the way with billions of dollars to supercharge this transition while creating thousands more good green jobs and growing our economic might."
Governor Newsom also highlighted the state's recent action to fully transition to zero emission trucks after the California Air Resources Board (CARB) approved a world-leading regulation last week to phase out the sales of medium and heavy-duty combustion trucks in California by 2036. World Energy will soon produce clean hydrogen, which many new trucks will rely on for fuel.
California's Clean Energy Record: